Design and Construction
Together with our in house design team, we aim to bring both the design and construction together to create inspiring projects that meet the budget and costings. These services include:
Consultancy
Design
Budgets and Costings
Program Schedules
Construction Program and Build
Project Management
Select and Open Tendering
Below are some recent projects completed from 2012 to 2017 of up to $8 million.
DAINTREE MEDICAL CENTRE
In 2014 Clients approached Connelly Constructions to design and build their Community medical practice to accommodate and facilitate a practise with several doctors private practice rooms, open spacious reception including its own pathology facility.
With a clear vision on the centre being modern, open clean lines, lots of natural light through the front design of the architectural windows, Daintree has an appeal to its surrounds in this estate. Daintree medical centre won the Local MBA 2014 building awards for design and construction and has certainly made an impact within the community.
UPPER MURRAY FAMILY CARE
Located in Stanley Street Wodonga, these new offices are winners of the 2017 MBA Award for Excellence in Construction for a project of $3 - 6 million.
DUTCH MEDIA EXTENSIONS AND ALTERATIONS
Dutch media have converted an old red brick into a unique, contemporary open office design throughout that inspires all who walk through the doors.
Utilising the beautiful high ceilings, original timber flooring and creating open spaces upstairs and downstairs with open work stations. The large central open feature spiral staircase keeps the upper and lower offices connected and continues to give the open feel that they wanted to achieve.
The open fire place and use of bright colours and lighting has given Dutch media a space that truly ignites creativity which reflects the business they serve to their customers.
Recently we completed their new production centre and office, which was a 2017 MBA Award winner for Excellence in Construction for a project up to $1 million.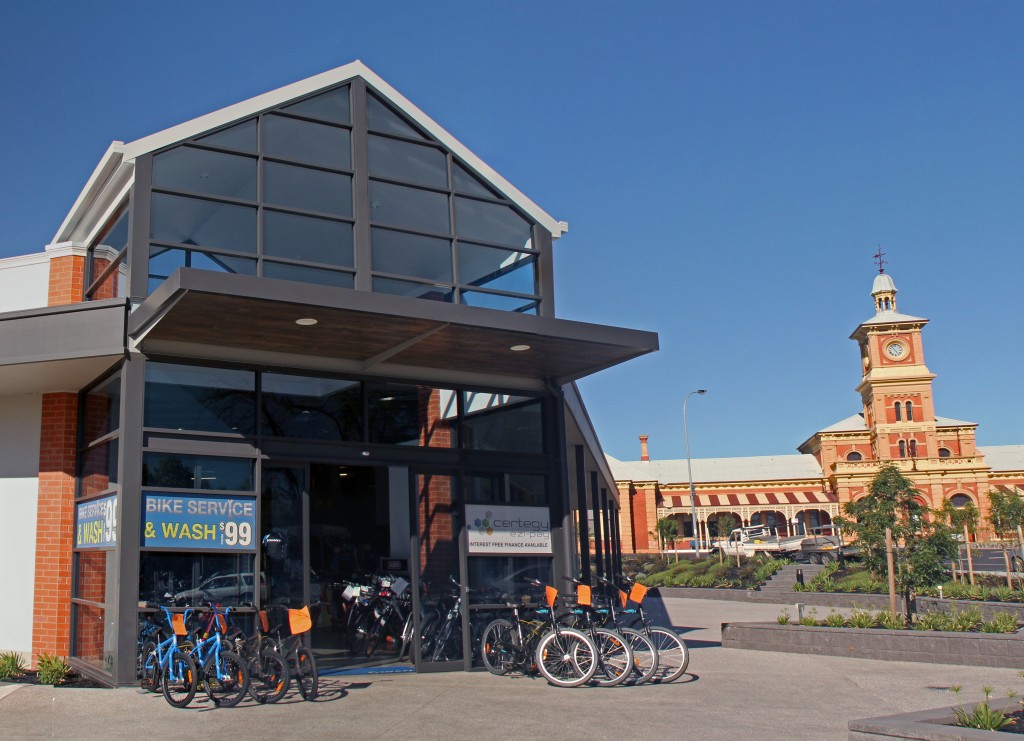 CYCLE STATION ALBURY WAREHOUSE
The design brief was a complex one incorporating heritage design requirements to fit in with the local railway station icon in Albury NSW.
In keeping with the surrounds of the heritage style, red bricks, large windows in the tall structural steel entry, including veranda features and posts, captured the whole picture with both contemporary and heritage styles together.
The cycle station warehouse design needed to incorporate large open spaces and mezzanine storage plus a café on the corner of the busy precinct with indoor outdoor dining areas and beautiful landscaping to surround it.
The warehouse includes large men's and women's change room facilities accommodating the many cyclers' needs.
TOOLES DISPOSALS CORNER PRECINCT OFFICES
On the busy precinct of Wodonga high street corner previously located where Tooles disposals warehouse had been for many years, a new contemporary office and street refurbishment has been developed.
The owners had the vision to design a corner that brought something new and exciting and this was carried out with in keeping the requirements of council.
The offices / shops include, large open spaces, window features, western red cedar timber eaves and use of contemporary colours on the exterior with Alucabond on veranda over hangs.
Victory Lutheran College Science Centre
The design and construction of this project was unique, particularly regarding the need to maintain and incorporate the educational characteristics of a specialised building, while working to blend the new design with the existing facilities to maintain a consistent environment. As a result, a balance of old and new architectural characteristics were incorporated within the design brief, to ensure these criteria were implemented. Comprehensive input from the school itself proved highly beneficial to this process.
Being a contemporary design, the Science Centre reflects the vision and direction of the school's' expansive growth in recent years, becoming a centrepiece of their middle and senior school activities. Utilising multiple external textures such as a coloured concrete blocks, custom orb cladding and aluminium composite panel, has provided students with a space which both facilitates learning and encourages creativity.
From the feature glass doors at the two new entries, articulating the elevations of the external building features, to the high ceilings of the classrooms, students and staff alike are invited into a creative atmosphere for learning. Bright colours, and airy light facilitated by the expansive windows emphasizing the creative lines of the building, further encourage this environment.
AWCC UPGRADE AND REFURBISHMENT